Leadership is significant. We all know that. It's a bit like saying that we need oxygen to breath.
However, I have heard it said that up to 60-80% of the culture of any organisation is determined by the leader and / or its leadership. Now, that's bit more than just breathing.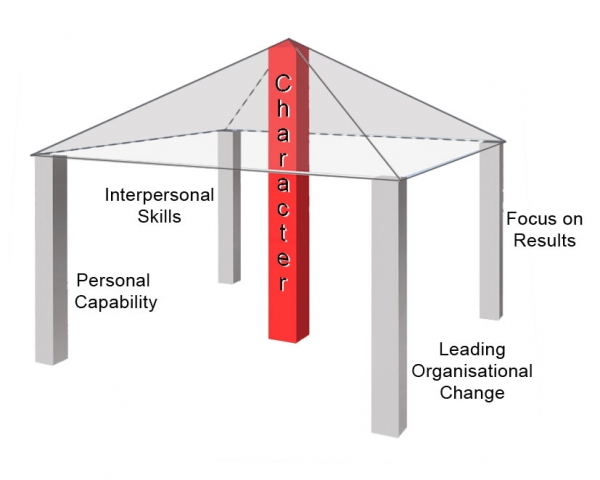 So, what are the characteristics of effective leadership? I'm sure that the list below is non-exhaustive, but it has certainly made sense to me in terms of the individuals that I have seen who have been authentic and inspiring leaders. According to Dr Stephen Covey, here are five major components to leadership as outlined below.
Character
Integrity; Personal credibility; telling the truth; In his book, "Principle-Centered Leadership," Dr Stephen Covey has written about the importance of leaders following principles in their daily behaviour.
It's true to say that the most important quality people look for and admire in a leader is personal credibility. As Howard Morgan writes in his book "The Art and Practice of Leadership Coaching" (2005), "Credibility is the foundation of leadership. If we don't believe in the messenger, we won't believe the message."
In brief, this is all about "Doing what you say you will do" or "DWYSYWD" for short. No matter where I go in visiting organisaitons, the message is the same re integrity. It comes in slightly different forms depending on who you talk to, but it sounds like the following:
Practice what you preach
Walk the talk
Put your money where your mouth is
Actions speak louder than words
You have to have the courage of your convictions
Q: How does character get defined?
Making decisions with the organisation paramount in mind versus allowing a personal agenda to influence decisions
Keeping commitments that are made
Practising self-development; constantly learning
Being receptive to and specifically asking for, feedback from others
Being approachable by anyone
Treating everyone the same – knows smiling up and kicking down behaviour
Treading the waitress and concierge with dignity as well as people of high status
Trusting other people; assuming they have good intentions
Working collaboratively with others, versus seeing everyone as a competitor
Not acting in an arrogant manner towards others
Being tenacious and not giving up because something is difficult
Having emotional resilience; adjusting rapidly changing environments
Personal Capability
This is all about whether you have direct knowledge or hands-on skills in relation to the industry or area in which you might lead.
I have certainly heard it said that a good leader can acquire certain technical information and expertise on the job, and that it's more about having people skills and emotional intelligence, but in the main, there is little doubt that having direct prior knowledge and expertise can assist credibility and job performance.
Q: What would you consider personal capabilities might include?
Some individual capabilities might be:
Technical knowledge
Product or service knowledge – a thorough understanding of what the organisation producers and why it is superior to competitive products or services
Problem analysis and problem-solving skills – the ability to define a problem, analyse it, and come up with solid recommendations for resolving it
Professional skills – the ability to write an intelligent, concise report; the ability to make a compelling presentation in front of a group; the ability to organise one's work inefficient manner, to monitor progress, and to act without being told by someone in authority
Innovation – the ability to have a fresh outlook and approaching a problem, to shake loose old methods and processes and see new possibilities. Innovation means being able to climb out of ruts and do things in a different fashion
Initiative – the person who sees something falling in the cracks between one department and another and who immediately takes steps to make certain it is handled. It involves volunteering that something needs to be done and no one currently is doing it
Effective use of information technology – this person sets an example in the consistent use of e-mail, powerful software applications, and any technology that escalates performance.
Focus on Results
It is one thing to set the vision for the company or group, it is another to assist them to get there. Setting goals and providing the necessary support for the team to meet the targets is a key role for any leader.
Q: What would you consider a focus on results might include?
How do leaders focus on results?
Establish stretch goals for their people
Take personal responsibility for the outcomes of the group
Provide ongoing feedback and coaching to their people
Set loftier targets for the group to achieve
Personally sponsor an initiative or action
Initiate new programs, projects, processes, client relationships, or technology
Focus on the organisation goals and ensure that they are translated into actions by their department
Operate with speed and intensity; accelerate the pace of the group
Champion the cause of the customer or client
Balance long-term and short-term objectives
Interpersonal Skills
Leaders need to be able to connect with their followers – and connect well. Of course, it is also about being task-oriented, but what's the point of being so outcome oriented that you forget about your people?
Q: What would you consider interpersonal skills or people skills might include?
A leader with strong interpersonal skills would include the following?
Communicating powerfully and prolifically
Inspiring others to high-performance
Building positive relationships with others
Developing the skills and talents of subordinates
Working in a collaborative manner with others
Being an effective team member
Recognising and rewarding the contributions of others
Being open and receptive to new ideas
Responding positively to feedback
Effectively resolving conflicts within their own department and with other groups outside
Influencing people upward in the organisation, in addition to peers and subordinates
Building the self-esteem of others, giving positive indications of their ability to succeed
Teaching others in a helpful manner
Leading Organisational Change
Anything that does not grow on the planet dies. And that goes for businesses as well. Leaders need to be able to provide the vision to their people, as well as the strategy about how to arrive and achieve the final result.
But we're creatures of habit and generally we don't like change, so the leader has to be able to guide the team through the change process which might of course, take months to achieve, but could take years.
Q: What would you consider leading organisational change might include?
What are the specific skills required for leading organisational change?
Has the ability to be a champion for change in the organisation
Leads projects or programs, presenting them so that others support them
Is an effective marketer for his or her work group's projects, programs or products
Has a strategic perspective
Knows his or her work relates to the organisation's business strategy (line of sight connection)
Translates the organisation's vision and objectives into challenging and meaningful goals for others
Takes the long view; can be trusted to balance short-term and long-term needs of the organisation
Connects the outside world with internal groups
Represents work group to key groups outside the group or department
Effectively resolving conflicts within their own department and with other groups outside
Helps people understand how meeting customer's needs is central to the mission and goals of the organisation
Coaching: A New Core Competency
Figure this out. I recently heard Jarrod Ellery the COO of MLC Life interviewed and he made the statement that "Coaching is Leadership 101". In other words, coaching is fundamental to managers and leaders. It is the foundation of leadership according to Ellery to be able to empower people to do the work turning the leader's intent into outcomes.
However, the reality is that most managers do not know how to coach according to an article in the Harvard Business Review (August 16, 2018) by J Milner and T Milner. That certainly concurs with my experience. Most companies and leaders talk about coaching. Sadly though, it is only a word. They are not coaching. They do not know how to coach.
Closer examination shows that they are simply mentoring or giving advice. That's a far cry from coaching. But the saddest part is that they don't know that they're not coaching!
What a poor state of affairs.
Coaching is so fundamental now to good leadership and most leaders think that they are coaching, but they're not.
The prediction is that many employees are going to become disillusioned and give up on this coaching thing because it hasn't empowered them, engaged them, or developed them or their team. Unfortunately, it's not them at fault.
The leaders have blindly assumed that mentoring or giving advice has been coaching. It's not.
But let's not throw the baby out with the bathwater.
Let's really understand what coaching is, what mentoring is, and what giving advice is. Then let's get some real training in coaching because it is a high level skill that takes time and effort and practice.
Can everyone coach? In my experience most can be trained, but not everyone.
However, coaching is going to be the one skill in the future that will mean the difference between promotion or being overlooked particularly if you want to remain in a management role looking after people.