The term "transformational leadership" is often heard around the workplace, but what is it really?
The concept of transformational leadership was first introduced by political scientist James MacGregor Burns in his 1978 book Leadership,
James MacGregor Burnsand has since become a widely used term in the fields of business and organisational psychology. In short, according to Wedell in his 2012 book, transformational leadership is the process by which leaders encourage greater levels of motivation and empowerment, morality and achievement amongst their subordinates (eg., "I care about your development, beyond expectations").
Put simply, transformational leadership is concerned with the development of followers into leaders. "This is a conscious goal; the leader has a development plan in her or his head about each follower… Such leaders stimulate challenge, as opposed to suppressing it when it arises…they work to leave behind an organisation, community or even society that is better positioned to succeed than when they first began their work…. [they are] moral agents who focus themselves and their followers no achieving higher-level missions and purposes. The higher levels of identification result in higher levels of commitment, trust, loyalty and performance (See B Avolio, "Full range Leadership Development" 2011, p 51-52). This model is also considered the most effective style of leadership for yielding successful results.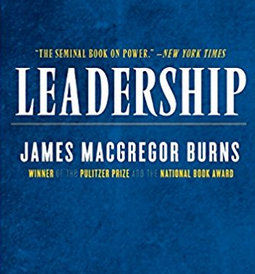 However, it needs to be recognised too that transformational leadership is based on transactional leadership in the first place. In other words, it is important for leaders to first articulate job descriptions, set clearly defined expectations and have a clear organisational structure as well as agreed-on levels of performance. Without these basic "transactions" in place, it is extremely difficult to then move on to being a transformational leader. Taken a step further, if a leader honours all of his or her transactions with people, then they come to trust that leader. This provides the base therefore, of then becoming more transformational and hence achieving exemplary performance.
The Five Components
As Professor Bruce Avolio outlines in his book, the transformational leadership model is comprised of five components, known as the 5 I's; those being idealised attributes, idealised behaviour, intellectual stimulation, inspirational motivation and individualized consideration. Let's take each of these in turn.
"Idealised attributes" is about the character of the leader who leaders by example and who goes beyond self-interest for the good of the group. "Idealised behaviours" includes the behaviours of the leader, where the leader acts with integrity, and talks about their most important values and beliefs in order to form close emotional ties with other team members and positively influence them.
"Intellectual stimulation" refers to the promotion of creativity and innovation and the generation of new ideas, while "inspirational motivation" is about optimistically talking about the future, articulating a clear vision to staff in order to raise their expectations and beliefs regarding the goal of the organisation, as well as being enthusiastic about what needs to be accomplished.
Finally, "individualised consideration" reflects how the leader may provide tailored support and assistance to the individual in order to meet staff's needs, especially in relation to personalised training and instruction coupled with coaching.
Interestingly, the 5 I's are able to be measured and assessed using the Multifactor Leadership Questionnaire (MLQ) as a 360 degree assessment tool which not only determines the extent to which one may be practicing transformational leadership, but also allows for the professional development of any leader.
Summary
In summary, leaders of the transformational type create an inspirational vision to work towards in conjunction with their team, challenge the status quo, and are focused on the future improvement, change and success of the organisation, community or even society. These leaders set high expectations and hold an authentic commitment to improving tomorrow, as they focus on higher-level missions and purposes rather than just personal gain, encouraging their staff to do so as well.
Moreover, transformational leaders typically instil a growth mindset within their organisation, while also cultivating the personal and professional development of their colleagues; understanding the significant value that this will have in the long-term. A culture of innovation may also be fostered by these leaders since they encourage and embrace the originality of team members. Those under the guidance of transformational leaders are likely to build positive rapport and a sense of trust with their leader, who is likely to model themselves as well as 'walk the walk'.
Additionally, Professor Bruce Avolio suggests that transformational leadership uses higher levels of trust, rather than compliance (as in transactional leadership) as its foundation for achieving outstanding performance. So, in considering the attributes of a transformational leader, there is a stand-out example in Nelson Mandela, who transformed an entire society once committed to racial segregation, into a single community. He developed his followers and supporters into leaders themselves who were able to stand up for their values and make their own contributions to change.
Overall, there is now compelling research and practice which indicates that leaders who can balance transactional and transformational leadership across time, situations and challenges are indeed, the most effective.
[Dr Darryl Cross is a clinical and organisational psychologist as well as a credentialed executive and career coach. He is also an author, facilitator, international speaker and university lecturer. Dr Darryl assists people to find their strengths and reach their goals. He works with businesses to facilitate communication and create positive cultures. Further information on Dr Darryl can be seen at
www.DrDarryl.com
and
www.LeadershipCoaching.com.au
and he can be contacted at
[email protected]
]